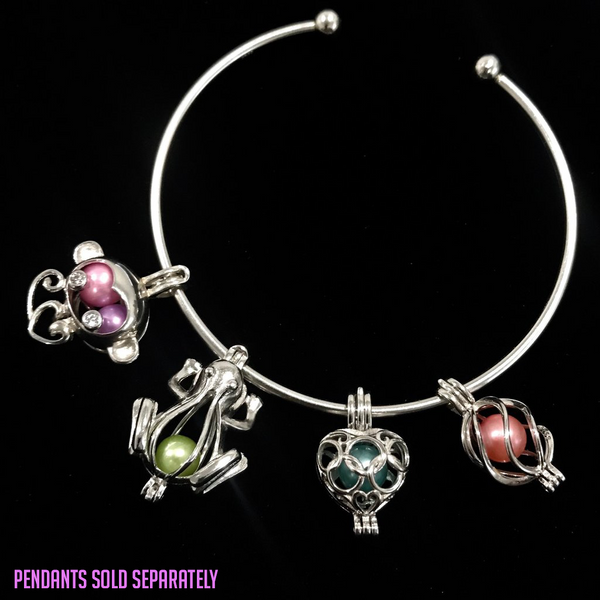 Sterling Silver Bangle Charm Bracelet
---
---
---
Adjustable sterling silver charm bracelet has removable screw-on ends to allow charms/pendants to be slid onto bracelet. Bracelet does not include charms/pendants or pearls.  
Caring for Sterling Silver:
Polishing Sterling Silver is the best way to clean it. Always use a soft non-abrasive cloth to clean Sterling Silver, moving to a new section of the cloth as you clean. Never use circular polishing movements, rather follow the grain of the metal.
The maintain the beauty of your Sterling Silver avoid using household cleaners, hairspray or lotion near your pendant. Always remove Sterling Silver before sunbathing or swimming.
Tarnishing of Sterling Silver occurs when the metal is oxidized. To help prevent tarnishing, always store pieces of Sterling Silver separately in an air tight bag and place in an area of low humidity. Keep clasp unhooked when storing. It is helpful to store your Sterling Silver with a packet of silica or a piece of chalk to ensure it is stored in a non-humid environment.
Wearing Sterling Silver often can help prevent tarnishing as the natural oils in your body have a cleaning effect on the metal.
---
Share this Product
---
---